Please could all results be phoned or sent by text message through to Aled on 01545 574 907 or 07791 605 651
Saturday October 21st 2017
Cwpan Coffa Dai Dynamo Davies
1st Round
Borth Res P v P Cardigan
Ffostrasol P v P Aberaeron Res
League Cup
1st Round
Llandysul P v P Dewi Stars
Bargod P v P Crannog
Div One
NCE 10 v 1 Cilgerran - *will be played at Saron*
St Dogmaels 4 v 0 Felinfach
Div Two
Aberporth P v P NCE Res
Crannog Res P v P Llanboidy
Maesglas P v P Lampeter Res
New Quay P v P Llandysul Res
Res Cup
Felinfach Res P v P Maesglas Res
Llanboidy Res P v P St Dogs Res
SDUC P v P Ffostrasol Res
Saturday October 14th 2017
* Crannog and NCE have requested their annual postponment
CWFA Cup
1st Round
No games in 1st Round
Cwpan Coffa Dai Dynamo Davies
1st Round
Llandysul 4 v 0 St Dogmaels
Maesglas 1 v 4 Llanboidy
League Cup
2nd Round
Felinfach 5 v 1 New Quay
Div One
Aberaeron Res 1 v 1 Dewi Stars
Cilgerran 1 v 2 Cardigan
Ffostrasol P v P Lampeter
Div Two
Aberporth 5 v 0 Crannog Res
Lampeter Res 1 v 1 Llandysul Res
NCE Res 4 v 4 Bargod
Div Three
Llanboidy Res 10 v 1 Felinfach Res
SDUC v Maesglas Res
St Dogmaels Res 1 v 2 Ffostrasol Res
Saturday October 7th 2017
J. Emrys Morgan Cup
1st Round
Newcastle Emlyn 7 v 2 Machynlleth
Maesyrhandir 0 v 2 Newtown Wanderers
League Cup
1st Round
Aberporth 2 v 2 Cardigan - aet (Cardigan win 4-3 on penalties - 2-2 after 90 mins)
Div One
Felinfach 2 v 3 Crannog
Lampeter 8 v 1 Cilgerran
Llandysul 4 v 0 Dewi Stars
St Dogmaels P v P Ffostrasol
Div Two
Bargod 2 v 5 Llanboidy
NCE Res 8 v 1 Crannog Res
Maesglas 4 v 2 Llandysul Res
New Quay 6 v 0 Lampeter Res
Div Three
Ffostrasol Res 3 v 0 Maesglas Res
Llanboidy Res P v P St Dogmaels Res
SDUC P v P Felinfach Res
Saturday September 30th 2017
Cwpan Coffa Dai Dynamo Davies
1st Round
Aberporth 3 v 2 Llanilar - aet
Cilgerran P v P Aberdyfi - Aberdyfi unable to raise a side
Dewi Stars 1 v 5 Bargod
Dolgellau Res P v P Penrhyncoch Res - Dolgellau unable to raise a side
Ffostrasol P v P Aberaeron Res - called off following referee's inspection
Llandysul A v A St Dogmaels - match abandoned after injury to Llandysul player
Machynlleth Res 2 v 1 Talybont
Maesglas P v P Llanboidy
Padarn Utd P v P New Quay - New Quay unable to raise a side
Penparcau 1 v 6 Crannog
NCE 2 v 1 Bow Street Res
SDUC P v P Lampeter - SDUC have not yet returned
Tregaron Turfs 6 v 0 Llanon
Tywyn Bryncrug Res P v P Bont
UWA Res 2 v 4 Felinfach
Div One
Cardigan 0 v 1 Lampeter
Div Two
Crannog Res 1 v 2 Llandysul Res
Lampeter Res 4 v 4 NCE Res
Div Three
Felinfach Res 2 v 8 St Dogmaels Res
Llanboidy Res P v P Maesglas Res
Saturday September 23rd 2017
Div One
Cilgerran 4 v 1 Ffostrasol
Dewi Stars 3 v 3 Cardigan
Felinfach 4 v 2 Llandysul
NCE 2 v 2 Lampeter
St Dogmaels 5 v 2 Crannog
Div Two
Crannog Res 0 v 4 Bargod
Lampeter Res 1 v 4 Maesglas
Llanboidy 2 v 2 Aberporth
Llandysul Res 3 v 3 New Quay
Div Three
Ffostrasol Res 18 v 0 Felinfach Res
Maesglas Res 1 v 3 Llanboidy Res
Tuesday September 19th 2017
Div Two
NCE Res 7 v 0 New Quay
Saturday September 16th 2017
Cwpan Coffa Dai Dynamo Davies
1st Round
Borth Res P v P Cardigan
Div One
Cilgerran P v P Aberaeron Res
Dewi Stars 1 v 3 Crannog
Felinfach 0 v 3 NCE
Lampeter 3 v 2 Ffostrasol
Llandysul 5 v 3 St Dogmaels
Div Two
Crannog Res 1 v 3 Aberporth
Llanboidy P v P Lampeter Res
Maesglas P v P Llandysul Res
NCE Res P v P New Quay - will now be played Tuesday 19th September
Div Three
Ffostrasol Res P v P Maesglas Res
St Dogmaels Res 12 v 3 Felinfach Res
Draw:-
The draw for the League Cup took place at tonight's league meeting. It is as follows:-
1st Round
Aberporth v Cardigan
2nd Round
St Dogmaels v Aberporth/Cardigan
Cilgerran v Ffostrasol
Aberaeron Res. v SDUC
Llandysul v Dewi Stars
Felinfach v New Quay
NCE v Llanboidy
Lampeter v Maesglas
Bargod v Crannog
Saturday September 9th 2017
Div One
Aberaeron Res 5 v 5 NCE
Cardigan 2 v 1 Llandysul
Cilgerran 1 v 1 Dewi Stars
Ffostrasol 0 v 3 Felinfach
Lampeter 1 v 0 St Dogmaels
Div Two
Aberporth 4 v 1 Maesglas
Bargod 8 v 1 Lampeter Res
Crannog Res 1 v 2 NCE Res
New Quay 0 v 6 Llanboidy
Div Three
Felinfach Res P v P Cardigan Res *Cardigan have withdrawn from the league*
Llanboidy Res 4 v 4 Ffostrasol Res
Maesglas Res 2 v 8 St Dogmaels Res
Draw
J. Emrys Morgan Cup
1st Round
Newcastle Emlyn v Machynlleth
Maesyrhandir v Newtown Wanderers
Wednesday September 6th 2017
Div One
NCE 5 v 2 Crannog
Unfortunately, Cardigan Reserves have withdrawn from the league. Fixtures etc. will be updated in due course.
Wednesday August 30th 2017
Div One
Crannog 2 v 0 Cardigan
Felinfach 4 v 2 Dewi Stars
Ffostrasol 0 v 3 NCE
Div Two
Maesglas 4 v 3 Crannog Res
NCE Res 2 v 7 Llanboidy
Tuesday August 29th 2017
Div One
Cilgerran 1 v 4 St Dogmaels
Lampeter 2 v 1 Aberaeron Res
Pencader P v P Llandysul - Pencader have pulled out of the league
Div Two
Bargod 5 v 2 New Quay
Llandysul Res P v P Lampeter Res - Lampeter unable to raise a side
Saturday August 26th 2017
Div One
Cardigan 3 v 0 Felinfach
Crannog 2 v 2 Lampeter
Dewi Stars 1 v 5 NCE
Ffostrasol 0 v 1 Llandysul
Lampeter P v P Cilgerran - Cilgerran have requested their annual postponment
St Dogmaels 8 v 2 Aberaeron Res
Div Two
Aberporth P v P Lampeter Res
Bargod 7 v 1 Maesglas
Llanboidy 6 v 1 Llandysul Res
New Quay P v P NCE Res
Wednesday August 23rd 2017
Div One
Cilgerran 1 v 3 Crannog
Felinfach 3 v 5 Aberaeron Res
Pencader P v P Ffostrasol - Pencader have pulled out of the league
Div Two
Aberporth 2 v 4 Bargod
Crannog Res 0 v 4 New Quay
Tuesday August 22nd 2017
Div One
Cardigan 1 v 1 St Dogmaels
Dewi Stars 0 v 3 Lampeter
NCE 4 v 5 Llandysul
Div Two
Llandysul Res 4 v 0 NCE Res
Maesglas 1 v 1 Llanboidy
Event
New Quay are hosting an event later this week for juniors. Further details below:-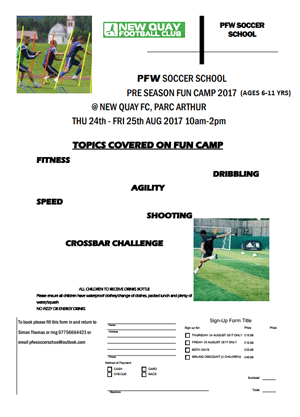 Sunday August 20th 2017
Unfortunately, we have received official notification that Pencader are pulling out of this year's league with immediate effect. Fixtures will be changed accordingly.
Tuesday July 18th 2017
Cwpan Coffa Dai Dynamo Davies
At the competition's AGM, the draw for this year's competition was made and is as follows:-
1st Round
SDUC v Pencader
2nd Round
Padarn v New Quay
SDUC/Pencader v Lampeter
Penparcau v Crannog
Tywyn-Bryncrug Res v Bont
Cilgerran v Aberdovey
Dolgellau Res v Penrhyncoch Res
Machynlleth Res v Talybont
UWA Res v Felinfach
Maesglas v Llanboidy
Aberporth v Llanilar
NCE v Bow St. Res
Dewi Stars v Bargod
Ffostrasol v Aberaeron Res
Borth Res v Cardigan
Tregaron v Llanon
Llandysul v St Dogmaels
Tuesday July 11th 2017
AGM
During the AGM it was decided that the format of the league would be as follows for the forthcoming season:-
Division 1 - 11 teams
Llandysul
NCE
Crannog
Lampeter
Cardigan
St Dogmaels
Dewi Stars
Aberaeron Res
Felinfach
Ffostrasol
Pencader
Division 2 - 9 teams
New Quay
Bargod
Maesglas
Llanboidy
Aberporth
Llandysul Res
Lampeter Res
NCE Res
Crannog Res
Division 3 - 6 teams
SDUC
Ffostrasol Res
Llanboidy Res
Felinfach Res
Cardigan Res
St Dogmaels Res
For older news items, please go to the News Archive link on the right of this page
As with last season, we are going to attempt to keep track of goalscorers for all competitions. Please could club secretaries or managers make a note of all goalscorers on team sheets so we can keep track? Information on goalscorers will appear on the tables pages for league goals and on the results pages for cup goals.

The goalscorer information for each club will be broken down by competition and will be shown on the registered players pages for each club. Information on appearances will also be shown on the registered players pages as and when the information is received from team sheets.

Good luck to all teams for the forthcoming season.

For scores from earlier in the season, please see the results sections or the archived news section which can be accessed from the link on the right hand side of this page.