Aberaeron have won the Easter Monday Cup Final on penalties after a thrilling three-all draw at the Square Field Aberaeron.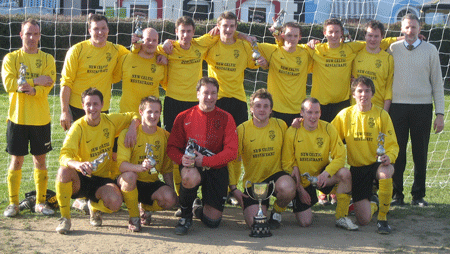 The winning Aberaeron team -

Back Row (l-r) Shane Davies, Gwyndaf Lewis, Jody Costello, Steven Evans, Simon Bray, Llyr Thomas, James Jemmings, Steffan Gruffudd, Phil Bumford (manager)

Front Row (l-r) Gavin Roberts, Gareth Severs, Simon Church, Jason Jones, Rhodri Lake, Gareth Lewis


However, things had looked bleak for Aberaeron after they found themselves two goals down after a fantastic start from Maesglas. They took the lead through a Steffan Davies goal. Davies had appeared to have given himself an inpossible angle to score from but the strike was as good as they get and he managed to get past Church in the Aeron goal. The second was via an aimless Jason Jones header with which he was trying to find his goalkeeper. The experienced Chris 'Hope' Jones was in the right place to cooly lob Church again to double the lead which they kept until half time.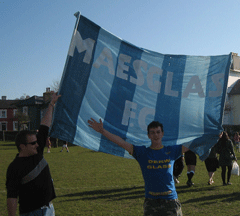 The vocal Maeglas support

The real drama started in the second half though as Aberaeron were given two penalties in two minutes. You could have forgiven them at this point for thinking that this was not their day as they conspired to miss both efforts and both rebounds. After this a third penalty was given and Steffan Gruffudd stepped up bravely to give Aeron a glimmer of hope. Ten minutes later Jason Jones made up for his earlier missed penalty to level the scores.
The game continued to ninety minutes and through a largely uneventful period of extra time untilGavin Roberts unleashed a thunderbolt of a volley five minutes from full time to give Aberaeron what seemed like a winning goal. But with a final push typical of their endeavours throughout the afternoon, Maesglas threw the kitchen sink at a final minute corner to take the final to penalties.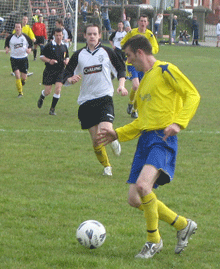 Never a satisfactory way to settle things, Aeron just managed to stay cooler during the shoot-out to win by four goals to three in the shoot-out. A fantastic final which will remain long in the memory of everyone involved.